SCIENCE FICTION LIBRARY & ART GALLERY / FILM REVIEWS BY JAMES CLINTON CURRAN / DOCUMENTARY FILM HISTORIAN


WILD PALMS Is A One-Of-A-Kind 6 Hour Mini-Series WELL REMEMBERED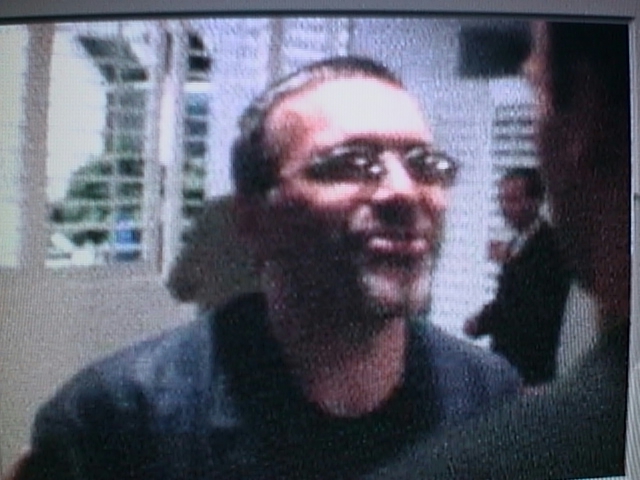 <BY ME IN THIS BACKGROUND SCENE
FILM REVIEWS & SYNOPSIS BY JAMES CLINTON CURRAN / DOCUMENTARY FILM HISTORIAN / ART DIRECTOR / PHOTOGRAPHER

AMAZON REVIEWS
WILD PALMS Is A One-Of-A-Kind Very Scary 6 Hour Science Fiction Mini-Series Ahead Of Its Time. It Is WELL REMEMBERED By Me For The Great Soundtrack And All Star Cast Including Myself As An Extra Actor In Which I Fortunately Got To Appear Within The First 25 Minutes (I am in the House Party Scene 3x's). The DP Used Me In A Steadicam Shot As A Pivoting Point Between The Main Characters. I remember Spending The Day At That Modern House In Woodland Hills, California Hanging Out Between Takes And Eating Lunch With Ernie Hudson Who Is Very Funny In Real Life And James Belushi Who Wasn't Talking That Day As He Was Concentrating Deeply On His Role.
ONLINE MOVIES ONLINE DIGITAL MPEG MOVIE DOWNLOADS
Plot Outline: A multi-national corporation attempts to take over America while small pockets of resistance hold out against rampant technology. LA in the near future, Harry Wykoff accepts a job as presidents of a gigantic TV company. He is confronted with a total new technology called "The New Reality" where three-dimensional TV animated pictures are projected in living rooms all around the world. Harry launches to the top of the company with his career but once there he is caught in a web of global deception and espionage.

THIS WEBSITE LINKS TO
TWENTY THOUSAND LEAGUES UNDER THE SEA JULES VERNE LIBRARY / JULES VERNE ART GALLERY / NAUTICAL / MILITARY / AUCTIONS / MOVIES
READ ~TWENTY THOUSAND LEAGUES UNDER THE SEA~ BY JULES VERNE / FILM: ~MYSTERIOUS ISLAND~ / NEMO'S SUBMARINE ~NAUTILUS~ / JULES VERNE HISTORY / EMAIL / HOME
SCIENCE FICTION ART GALLERY / WAR OF THE WORLDS / GODZILLA ART GALLERY / PHOTOGRAPHY GALLERY / COINS & STAMPS / JEWELRY / TOYS
DOCUMENTATION THROUGH RESEARCH BY JAMES CLINTON CURRAN / DOCUMENTARY FILM HISTORIAN / ART DIRECTOR
WWW.TWENTYTHOUSANDLEAGUESUNDERTHESEA.COM / COPYRIGHT © 2005~ALL RIGHTS RESERVED~