MILITARY MUSEUM ACQUISITIONS AND COLLECTIONS / KING KAMEHAMEHA III / HAWAII GOVERNOR LUCIUS EUGENE PINKHAM / MAJOR GENERAL WILLIAM GILES HARDING / MILITARY BUTTONS AND BACK MARKS / GO TO PAGE 2
RARE HISTORICAL ROYAL HAWAIIAN MILITARY, POLICE & POLITICAL BUTTON DEVICES
EXTREMELY RARE ANTIQUE ROYAL HAWAIIAN NAVY MILITARY UNIFORM COAT BUTTON 1887 / HHMS KAIMILOA / Established By KING KALAKAUA
EXTREMELY RARE UNIFORM COAT BUTTON MEASURES 21MM
2 PIECE WITH BORDER AND CIRCLE OF ROPE / FOWL ANCHOR WITH CROWN ABOVE ON A LINED FIELD
DOCUMENTED AND SHOWN IN ALBERT'S ON PAGE 139 AND LISTED AS HI A
THE BACK MARK READS: FIRMIN & SONS Ld./153 Strand LONDON/&/47 Warwick St.
History Of HHMS KAIMILOA
HHMS Kaimiloa was the first and only ship of the Hawaiian Royal Navy. The ship was a 170-ton Explorer gunboat, made in Britain in 1871. King Kalākaua bought the ship for 20,000 dollars and added the rigging. It sailed from Hawaii to Samoa and other Pacific islands in 1887 in an effort by Kalākaua to form a confederation of Polynesian states to counteract European imperialism. The instance nearly resulted in military conflict between Hawaii and the German Empire who viewed Samoa as their possession in the Pacific. It was also used as a training ship. In the Hawaiian language, kaimiloa means "one who seeks afar".
VOYAGE...The Kaimiloa came into commission on the 28th March 1887. Twenty-four of the crew members were young Hawaiians who were enrolled in reform school, and who were placed on the ship's crew with only one month of training. Due to the music program which was in effect at the reform school, some of these crew members were also members of a military band. They were led by Charles Palikapu Kaleikoa, who was a member of the Royal Hawaiian Band. The ship's captain was George E. Gresley Jackson.
Seeking an alliance with Samoa, the Kaimiloa set sail on May 18, and reached Apia on June 16. However, due to Samoa already being in negotiations with the German empire, and the U.K. and U.S.A. also keeping track of the situation, talks did not progress well. During these negotiations, the military band held a concert for the townspeople of Apia, which helped to build up good relations between them and the Hawaiians. In addition, there were few problems caused by the crew, with only one incident that required reprimand being on record.
Due to the effects of the coup d'état that happened in July 1887, the ship was ordered to return home on August 23. They arrived in Honolulu on September 23. This was the only voyage of the Kaimiloa for the Hawaiian navy. The crew were disbanded on August 29, and the ship was decommissioned on August 30. After this, Charles Palikapu Kaleikoa reformed the Royal Hawaiian Band and continued to play in it until his retirement 40 years later.
AFTER DECOMMISSIONING...After it was decommissioned, the Kaimiloa was still used as a quarantine ship, but in 1888 it was sold for 2,800 dollars and used as a transportation vessel between the Hawaiian islands.
In 1894 the Gatling guns were removed by the administration of the Republic of Hawaii.Later, the steam engine was also removed and used by the sugar industry. The Kaimiloa was then used to transport coal and oil. In 1910 her hull was burned.
---
VERY RARE ANTIQUE KING KAMEHAMEHA III MILITARY UNIFORM COAT BUTTON 1840
THIS VERY RARE UNIFORM COAT BUTTON MEASURES 21MM
1 PIECE WITH BORDER / A CROWN WITH 3 BELOW AND KAMEHAMEHA ABOVE
DOCUMENTED AND SHOWN IN ALBERT'S ON PAGE 137 AND LISTED AS HI 2
THE BACK MARK READS: R & W. ROBINSON / EXTRA RICH
Short History Of KAMEHAMEHA III (Reigned Hawaii From June 6th, 1825 To December 15th, 1854)
Kaleiopapa Kuakamanolani Mahinalani Kalaninuiwaiakua Keaweawe ulaokalani
Kamehameha III (born Kauikeaouli), (1813–1854) was the King of Hawaii from 1824 to 1854. His full Hawaiian name was Keaweawe ula Kiwala o Kauikeaouli Kaleiopapa and then lengthened to Keaweawe ula Kiwala o Kauikeaouli Kaleiopapa Kalani Waiakua Kalanikau Iokikilo Kiwala o ike kapu Kamehameha when he ascended the throne.
Under Kamehameha III Hawaii evolved from an absolute monarchy to a Christian constitutional monarchy with the signing of both the 1840 Constitution and 1852 Constitution. He was the longest reigning monarch in the history of the Kingdom, ruling for 29 years and 192 days, although in the early part of his reign he was under a regency by Queen Ka ahumanu and later by Kahumanu II. His goal was the careful balancing of modernization by adopting Western ways, while keeping his nation intact. As the years passed, Kamehameha III found himself resigned to the changing landscape of Hawaii. His rebellious nature softened as his authority was compromised by outside influences.
Kauikeaouli was born at Keauhou Bay, on the Big Island of Hawaii. He was the second son of King Kamehameha I and his highest ranking wife, Queen Keopuolani of Maui. The precise date is not known. Early historians suggested June or July 1814, but the generally accepted date is August 11, 1813. He was of the highest kapu lineage. Kauikeaouli was about 16 years younger than his brother Liholiho, who ruled as Kamehameha II starting in 1819. He was named Kauikeaouli (placed in the dark clouds) Kaleiopapa Kuakamanolani Mahinalani Kalaninuiwaiakua Keaweawe ulaokalani (the red trail or the roadway by which the god descends from heaven). He appeared to be delivered stillborn, but Kapihe, the kaula (prophet) of Chief Kaikio ewa was summoned and declared the baby "alive". Kauikeaouli was cleansed, laid on a rock, fanned, prayed over and sprinkled with water until he breathed, moved and cried. The prayer of Kapihe was to Kaonohiokala, "Child of God". The rock is preserved as a monument. Kamehameha III chose to celebrate his birthday on March 17 in honor of his admiration for Saint Patrick of Ireland.
Kauikeaouli had a troubled childhood. He was torn between the Puritan Christian guidelines imposed on the kingdom by the kuhina nui (Queen Regent) who was his stepmother Kahumanu, and the desires to honor the old traditions. Under the influence of Oahu governor Boki, who owned a liquor store, and a young Tahitian named Kaomi Kauikeaouli turned to alcohol in a clear rejection of the Christian standards of morality.
---
VERY RARE ANTIQUE KING KAMEHAMEHA V ROYAL HAWAII SEAL UNIFORM COAT BUTTON 1870
THIS VERY RARE UNIFORM COAT BUTTON MEASURES 21MM AND SHOWS THE TERRITORIAL SEAL OF HAWAII.
DOCUMENTED AND SHOWN IN ALBERT'S ON PAGE 138 AND LISTED AS HI 9 D
THE BACK MARK READS: JOSH STARKEY 23 Conduit LONDON (1859-1877)
Short History Of KAMEHAMEHA V (Reigned Hawaii From 1863 To 1872)
Kamehameha V (1830–1872), born as Lot Kapuaiwa, reigned as monarch of the Kingdom of Hawaii from 1863 to 1872. His motto was "Onipa`a": immovable, firm, steadfast or determined; he worked diligently for his people and kingdom and was described as the last great traditional chief. His full Hawaiian name prior to his succession was Lota Liholiho Kapuaiwa Kalanimakua Kalanikupuapaikalaninui Ali iolani Kalani-a-Kekuanaoa.
He was born and given the name Lot Kapuaiwa December 11, 1830. His mother was Elizabeth Kinau and father was Mataio Kekuanao a. His siblings included David Kamehameha, Moses Kekuaiwa, Alexander Liholiho, and Victoria Kamamalu. Kapu aiwa means mysterious kapu or sacred one protected by supernatural powers. He was adopted using the ancient Hawaiian tradition called hanai by Princess Nahi ena ena, but she died in 1836. He was then adopted by his grandmother Queen Kalakua Kaheiheimalie and step-grandfather High Chief Ulumaheihei Hoapili. His childhood was pretty rough. He felt that his hanai parents treated him as a stranger in their house and he felt the adoption had deprived him the love of his mother. Throughout his life he would have a deep dislike for this tradition as it could be later seen by his anger at his half-sister Ruth Keelikolani giving away her second son Keolaokalani to Bernice Pauahi Bishop.
It was planned that he would be his hanai father's heir as Governor of Maui, although this never happen. Since King Kamehameha III declared him eligible for the throne, he was educated at the Royal School like his cousins and siblings. He was betrothed to Bernice Pauahi at birth but she eventually married Charles R. Bishop. Lot and Bernice remained friends for the rest of his life.
---
TWO (2) VERY RARE ANTIQUE HAWAII TERRITORIAL SEAL COAT BUTTONS 1890 / J. M. LITCHFIELD CO. & PACIFIC BUTTON CO.
THIS VERY RARE UNIFORM COAT BUTTON MEASURES 21MM AND SHOWS THE TERRITORIAL SEAL OF HAWAII.

DOCUMENTED AND SHOWN IN ALBERT'S ON PAGE 140 AND LISTED AS HI19

THE BACK MARK READS: J. M. LITCHFIELD & CO. / S. F. CAL.

J. M. LITCHFIELD & CO. / S. F. CAL. CLOTHING OUTFITTERS WAS IN BUSINESS IN SAN FRANCISCO, CALIFORNIA.

IN 1876 AND WENT OUT OF BUSINESS IN 1906 AFTER THE GREAT EARTHQUAKE WHICH DEVASTATED THE CITY.

THIS VERY RARE UNIFORM COAT BUTTON MEASURES 21MM AND SHOWS THE TERRITORIAL SEAL OF HAWAII.

DOCUMENTED AND SHOWN IN ALBERT'S ON PAGE 140 AND LISTED AS HI19

THE BACK MARK READS: PACIFIC BUTTON CO. / S. FRAN. CAL.
---
ANTIQUE COUNTY OF HAWAII POLICE COAT BUTTON 1900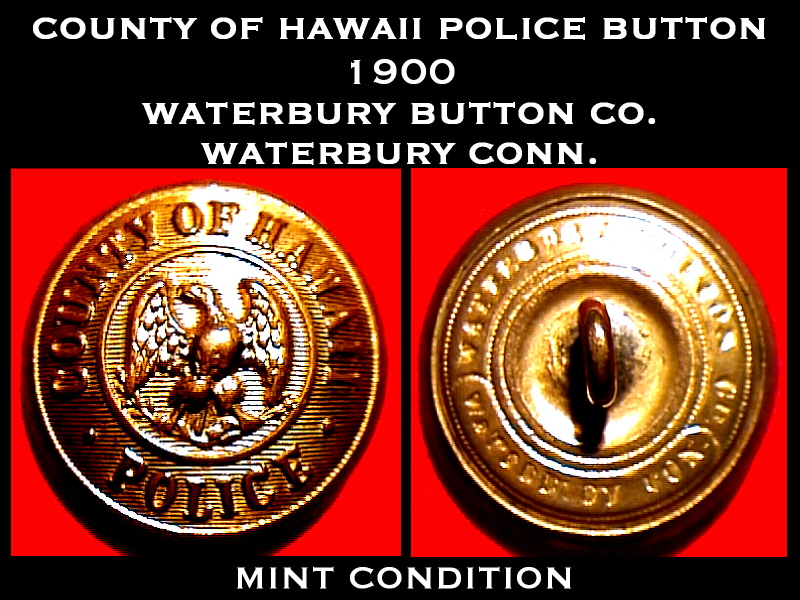 ANTIQUE COUNTY OF HAWAII POLICE COAT BUTTON 1900
OFFICIAL POLICE BUTTON WITH EAGLE
WATERBURY BUTTON CO. / WATERBURY CONN.
---
HAWAII STATE SEAL COAT BUTTON 1959
---
OTHER MILITARY BUTTONS
---
BACK MARKS ON OTHER MILITARY BUTTON DEVICES
THE HORSTMANN COMPANY

W.H.HORSTMANN / PHILA............1820-1850
W.H.HORSTMANN / NEW YORK.........1820-1837
W.H.HORSTMANN & SONS.............1843-1863
W.H.HORSTMANN & CO. / PHILA......1864-1866
W.H.HORSTMANN & CO. / NEW YORK...1837-1847
HORSTMANN BROS & CO. / PHILA.....1859-1863
HORSTMANN BROS & CO / NEW YORK...1850-1852
HORSTMANN BROS & ALLIEN..........1852-1877
HORSTMANN BROS & DRUCKER.........1844-1850
HORSTMANN / PHILADELPHIA........1893-1935

W.H. Horstmann & Sons, NY and Philadelphia
Although Horstmann was more of a resaler than a maker. I've seen at least 5 versions of the Horstmann mark, most on a variety of officer's sabers. The carried a range of sword varieties rivaled only by the Ames company. Most standard issue models were sold, as well as a huge variety of related military equipment. Most, if not all, blades were imported from Germany, and some still carry marks from their German makers. Horstmann held government contracts for 1043 cavalry sabers, 1143 NCO swords, 270 musician swords, and 87 light artillery sabers, and is the only known maker of the M1840 Marine sword.
_________________________

THE SCOVILL COMPANIES
LEVENWORTH, HAYDEN & SCOVILL 1811-1827
J.M.L. & W.H. SCOVILL 1827-1840
SCOVILLS 1827-1840
SCOVILLS & CO. 1840-1850
SCOVILL MANUFACTURING CO. 1850-1960
SCOVILL Mg. Co. 1850-1865
SCOVILL Mg. Co. / WATERBURY CT. 1850-1865
SCOVILL Mf''g Co. WATERBURY CT. 1850-1865
SCOVILL Mf''g Co. WATERBURY 1850-1865
SCOVILL Mfg Co. WATERBURY CT. 1850-1865
__________________________

THE WATURBURY COMPANIES

AARON BENEDICT 1812-1823
A. BENEDICT & CO. 1823-1829
BENEDICT & COE 1829-1834
BENEDICT & BURNHAM 1834-1843
BENEDICT & BURNHAM MFG CO. 1843-1849
WATERBURY BUTTON CO. 1849-1965
WATERBURY CO.S Post 1965
_________________________

THE ROBINSON COMPANIES

OBED AND OTIS ROBINSON 1812-1826
RICHARD ROBINSON & CO. 1826-1828
ROBINSON, JONES & CO 1828-1836
R. & W. ROBINSON 1836-1848
D. EVANS & CO. 1848-1945
________________________________
THE HORSTMANN COMPANIES

W. H. HORSTMANN / PHILA. 1820-1850
W. H. HORSTMANN / NEW YORK 1820-1837
W. H. HORSTMANN & SONS 1843-1863
W. H. HORSTMANN & CO. / PHILA. 1864-1866
W. H. HORSTMANN & CO. / NEW YORK 1837-1847
HORSTMANN BROS & CO. / PHILA 1859-1863
HORSTMANN BROS & CO. / NEW YORK 1850-1852
HORSTMANN BROS & ALLIEN 1852-1877
HORSTMANN BROS & DRUCKER 1844-1850
HORSTMANN / PHILADELPHIA 1893-1935
_______________________________________

OTHER BUTTON COMPANIES, U.S. MAKERS UNLESS OTHERwise SPECIFIED

H. V. ALLIEN & CO. 1877-1948
ABBATE & DECARO 1901-1905
ACKERMAN & MIXER 1847-1861
AMERICAN BUTTON CO. 1901-1920
ALEXANDER (British?) 1800?
H. V. ALLIEN & CO 1877-1948
E. ARMFIELD & SON 1790-1855
GEORGE ARMITAGE 1799-1826
E. A. ARMSTRONG 1890-1899
ARMY & NAVY BUTTON CO 1864-1867
ARNHEIM NEW YORK 1867-1895
JOSIAH BALDWIN 1804
H.E. BALDWIN 1844-1851
G. BOGETT 1825-1832
JOHN BOYLAN 1864-1880'S
CULLEN BROWN 1846-1869
BROWNING KING & CO 1860-1934
BURTON, PIERCE CO 1910'S
CAIRN & CO. 1795-1810
C & R Imperial Standard (Britain) 1790-1820's ?
CANFIELD BROS & CO. 1840-1860'S
CARTER / LOMBARD STREET LONDON 1790'S
CITY BUTTON WORKS Post 1907
C CLANCY DUBLIN (Ireland) 1820's ?
COURTNEY, TENNENT & CO 1849-1865
MARK COWEN & CO 1889-1916
WILLIAM CRUMPTON 1807-1823
CULLEN BROWN 1840'S
CUMNER JONES & CO. 1890-1950
THOMAS N. DALE & CO. 1870'S
DEMOULIN BROS & CO. 1900-PRESENT
DEVLIN & CO. 1860'S
EARL, LEE & CO. 1820'S
GEORGE EVANS 1877-1897
EVANS & HASSAL 1860-1868
JOHN R FARRELL 1853-1904
FECHHEIMER & CO. 1870'S
FIRMIN & SON 1790'S; 1823-1840
FIRMIN & WESTALL 1800-1811
FIRMIN & LANGDALE 1812-1823
P & S FIRMIN 1840-1875
FIRMIN & SONS LD Post 1875
FITCH & WALDO 1860'S
J. R. GAUNT & SON Post 1870
(JR Gaunt & Sons London (1884-1899, but also used well after this date) JR Gaunt &
Sons LTD London (1899-1991) JR Gaunt & Sons LTD London ENG (1899-1991)
GEORGE FLOYD 1840'S
FREEMAN & CO 1860'S
J.C. FULLER 1857-1867
GODDARD & BRO. 1860'S
JACOB GMINDER 1860-1902
GODDARD & BRO 1848-1880
G & CIE PARIS (France) 1840-1865
HAMMOND TURNER & DICKINSON 1790-1800
HAMMOND TURNER & SONS 1823-1865
HYDE & GOODRICH 1860'S
CLARENCE A. HART 1880'S
T. H. HASLUCK 1825-1850
HENDERSON, AMES CO. 1890-PRSENT
HIEBERGER 1890-1900
IVES KENDRICK & CO. 1830'S
IVES SCOTT & CO. 1830'S
CHARLES JENNENS London (Britain) 1805-1815
W. H. JONES 1830'S
KELLER & FREEMAN New York 1820's?
KENDRICK & CO. 1830'S
R KIRBY & CO (Britain?) 1800?
D. KLEIN & BRO 1870-1880
LAMBERT & MAST 1850-1865
LANE & CO. 1840'S
WM. LANG 1850'S
LEAVENWORTH & CO. 1830'S
LEAVENWORTH & KENDRICK 1830'S
THOMAS LEDSAM 1800-1850
LEWIS & TOMES 1820-1832
M. C. LILLEY 1870'S
LOUD & CIE Paris (France) 1820's ?
J. M. LITCHFIELD 1880-1895
J. MANN 1805-1843
A. C. MARIEN & CO. 1870-1880'S
ROBERT MARTIN 1798-1809
R. H. MAXWELL & CO. 1844
T MILLER 1860'S
W. G. MINTZER 1858-1870
MITCHELL & TYLER 1845-1866
S. N. MEYER 1890-1925
M. L. & CO. 1805-1808
I. MOORE & CO. 1800-1830
B. PASQUALE 1890'S
A. M. PEASLEY 1808-1825
PETTIBONE MFG CO. 1880-1920
WILLIAM PINCHIN 1827-1840
ABEL PORTER & CO 1802-1811
T. POTTS 1785-1835
E. E. PRITCHARD 1840-1850
R. J. & Co (Britain?) 1800?
JACOB REEDS SONS 1880
GILES RICHARDS 1812
RIDABOCK & CO. 1880-1940
CHARLES RUBENS & CO 1883-1911
SCHUYLER HARTLEY & GRAHAM 1854-1840
SHANNON MILLER & CRANE 1865-1892
G. W. SIMMONS & CO. 1850-1870
G. SMITH 1845
WM. H. SMITH 1845
W & R SMITH 1790-1832
A. W. SPIES 1825-1834
W STANLEY London (Britain) 1800?
STEELE & JOHNSON 1858-1875
STEELE & JOHNSON MFG CO. 1875-1920
TOMES & MELVAIN CO. 1830'S
TIFFANY & CO 1852-1867
TRELON WELDON & WEILL (Paris France) 1814-1865
U. S. BUTTON CO. 1837
HENRY VANWART 1820-?
WADHAMS, COE & CO. 1830'S
WADHAMS, WEBSTER & CO. 1840'S
WADHAMS & CO. 1847
WAVERLY (Britain?) 1800?
WILLIAM WALLIS (Britain) 1880-1828
WALTON BROS 1860'S
WANAMAKER & BROWN 1860'S
C & J WELDON (Britain) 1851-1882
WILSON & STELLWAGON 1868-1873
J. H. WILSON 1873-1904
WISE, BEILLY HYDE & CO. 1820-1830
H WISHART 1812
YOUNG SMITH & CO. 1830-1858
---
2 VERY RARE ORIGINAL 1915 Antique Historical MUSEUM QUALITY Gelatin Photographs
COMMANDER MAJOR GENERAL WM. H. CARTER HAWAII / MINT CONDITION
2 VERY RARE 1915 MUSEUM QUALITY Antique Historical Gelatin Photographs COMMANDER MAJOR GENERAL WM. H. CARTER HAWAII / TWO (2) VERY RARE AND IMPORTANT Original Antique 1915 MUSEUM QUALITY Gelatin Photographs Of THE FAMOUS MILITARY COMMANDER MAJOR GENERAL WM. H. CARTER HAWAII / COMMANDER OF THE UNITED STATES ARMY HAWAII Standing On The Lawn In Front Of The ARMY AND NAVY BUILDING Greeting All Parties And Patrons, Republicans And Democrats Alike During The Hawaii Governorship Of LUCIUS EUGENE PINKHAM. / TWO (2) VERY RARE ORIGINAL Antique 1913-1915 Black And White Historical Gelatin Photographs Depicting THE FAMOUS COMMANDER MAJOR GENERAL WM. H. CARTER HAWAII (He Is Written About And Documented In Many Historical Books And Records) / BOTH PHOTOGRAPHS EACH Measure 6 Inches Horizontal By 4 Inches Vertical / Two (2) Original Antique 1913-1915 Historical Gelatin Photograph COMMANDER MAJOR GENERAL WM. H. CARTER HAWAII / Black And White Continuous Tone Silver Nitrate Gelatin Photographs Are From A Much Larger Lot Of Historical Photographs And Documents Taken During The Exact Period Of The Hawaii Governorship Of LUCIUS EUGENE PINKHAM (4th Hawaiian Governor 1913-1918). NOTE: These Original Photographs Are Mounted On Old Original Antique Faded Gray/ Black Heavy Scrapbook Paper Stock And Hold A Nice Sepia Tone Iridescent Tonal Quality. / COMMANDER MAJOR GENERAL WM. H. CARTER HAWAII Was Part Of The Exciting Events That Took Place Surrounding HAWAII GOVERNOR LUCIUS EUGENE PINKHAM'S Unique And Controversial Political Appointment. These Will Make Excellent Additions To Your Historical Antique Hawaiian Photographic Military Collections. NOTE: These Are NOT Post Cards or Copies. These very rare original antique candid photographs taken at a very important time in the political and military history of Hawaii.
William Giles Harding Carter Major General, United States Army
Born at Nashville, Tennessee, November 19, 1851, he was educated in private and public schools of Nashville and at the Kentucky Military Institute, Frankfort, Kentucky. He served as a mounted messenger in the Civil War, 1864-65; graduated from West Point in 1873. He married Ida Dawley, October 27, 1880.
Appointed Second Lieutenant, 8th United States Infantry, June 13, 1873 and was promoted through the grades to Major General, November 13, 1909. He was awarded the Medal of Honor "for distinguished bravery in action against Apache Indians at Cibicue Creek, Arizona, August 30, 1881. He was also awarded the Distinguished Service Medal in World War I.
He was a student of Army organization and administration, mainly responsible for the technical details of the Army organization, 1901-03; Commanding Officer, 2nd Division, 1913; Hawaiian Department, January 1914-1915; retired by operation of law, November 19, 1915. Recalled to active duty, August 26, 1917. Commanded the Central Department, Chicago, August 1917-February 1918; Author of: Horses, Saddles, and Bridles, 1918; From Yorktown to Santiago With the 6th Cavalry, 1900; Old Army Sketches, 1906; Giles Carter of Virginia, 1909; The American Army, 1915; Life and Services of General Chaffee, 1917.
He died on May 24, 1925 and was buried in Section 1 of Arlington National Cemetery.
His wife, Ida Hawley Carter (1860-1958) is buried with him. His son, Leigh Hays Carter (1884-1907) is also in the same gravesite. His second son, William Vaulx Carter (1883-January 28, 1971) who graduated from West Point in 1904 and who served as a Brigadier General and Secretary of the Service Schools and his wives, Helen Coryn Carter (May 1, 1888-August 12, 1912) and Margaret Barker Woodbury Carter (September 1, 1896-November 13, 1978) and his son, William Harding Carter II (September 23, 1915-May 17, 1944), who served as a Second Lieutenant in the Army Air Corps Reserve and who was killed-in-action in World War II, are also in the same site.
CARTER, WILLIAM H / MAJ GEN USA RTD / DATE OF DEATH: 05/24/1925 / BURIED AT: SECTION W SITE LOT 443 / ARLINGTON NATIONAL CEMETERY.
Rank and organization: First Lieutenant, 6th U.S. Cavalry. Place and date: At Cibicue, Arizona, 30 August 1881. Entered service at: New York, N.Y. Birth: Nashville, Tennessee. Date of issue: 17 September 1891.
Citation: Rescued, with the voluntary assistance of 2 soldiers, the wounded from under a heavy fire.
CLICKING HERE TAKES YOU TO THE ARLINGTON NATIONAL CEMETERY BURIAL SITE OF MG WM. H. CARTER
---
Antique 1918 "Letter To An U.S. Army Solder" From HAWAII GOVERNOR "LUCIUS EUGENE PINKHAM" Hand Written Dated 1918
A VERY RARE Original Antique 1918 Hand Written "Letter To An United States Army Solder" From HAWAII GOVERNOR LUCIUS EUGENE PINKHAM Hand Written And Dated 1918 / FOUR (4) Sided Folded Letter Measures 5 3/4 Inches Horizontal By 6 3/4 Inches Vertical When Folded / FULLY OPENED Measures 11 1/2 Inches Horizontal By 6 3/4 Inches Vertical / BLANK BACK / "Letter Of Encouragement To An United States Army Solder" From Hawaii Governor LUCIUS E. PINKHAM On The Governor's Stationary. / MINT CONDITION.
HAND WRITTEN LETTER READS AS FOLLOWS:
EXECUTIVE CHAMBER / LUCIUS E. PINKHAM / GOVERNOR OF HAWAII / TWENTY FIFTH SEPTEMBER / NINETEEN EIGHTEEN (1918)
MY DEAR NICHOLAS,
NOW YOUR ARE LEAVING ME FOR THE SERVICE OF OUR COUNTRY I WISH TO EXPRESS MY DEEP APPRECIATION OF YOUR KINDNESS AND ATTENTION WHICH CAME FROM YOUR THOUGHTFUL AND FAITHFUL NATURE. I SHALL MISS YOU AND YOUR WELFARE WILL BE IN MY MIND. AS TO YOUR PHYSICAL HEALTH. I DOUBT IF YOU ARE AN OVER STRONG MAN. WHILE DOING YOUR FULL DUTY USE YOUR INTELLIGENCE TO AVOID OVER STRAINING OR OVER EXPOSURE. KEEP YOUR FEET DRY, YOUR HEAD COOL, YOUR BOWELS REGULAR AND DON'T WORRY. WHILE IN THE ARMY YOUR FOOD WILL BE WHOLESOME. TRY TO REGULATE YOUR BOWELS BY THE FOOD YOU EAT. IF YOUR BODY GETS CHILLED THROUGH PERSPERATION OR SWEAT REMOVE YOUR CLOTHING AT THE EARLIEST OPPORTUNITY AND DRY YOURSELF WITH A ROUGH TOWEL. AVOID IF POSSIBLE CHILLS AND ALSO SLEEPING ON THE GROUND. IT IS THE AIM OF ARMY REGULATIONS TO BUILD UP THE STRENGTH AND HEALTH OF ITS MEN. THE REGULATIONS, FORMS, AND DICIPLINE NOT ONLY HAVE A SOUND MILITARY OBJECT, BUT ARE A BASIS ON WHICH TO BUILD A GENTLEMENLY CHARACTER WHEN BOTH OFFICERS AND MEN OBEY THEM IN THE RIGHT SPIRIT. THE ARMY AND THOSE ASSOCIATED TRY TO PROVIDE AMUSEMENT SO YOUR SOLDERS LIFE MAY NOT BE DULL. I UNDERSTAND YOU YOU WILL BE EASILY SATISFIED. YOUR DANGER OF BEING MISLED WILL COME FROM A DESIRE TO SOLVE IN YOUR OWN MIND THOSE PROBLEMS THAT THE WORLD HAS NEVER SOLVED AND APPARENTLY IS NOT READY TO SOLVE. THE WORLD IS NOT IN AGREEMENT AS TO RELIGION, GOVERNMENT, RIGHTS AND PRIVILIGEGES AND PARTICULARLY AS TO PROPERTY AND AUTHORITY. YOUR MIND IS QUITE SOUND ON SOME OF THOSE POINTS, FOR YOU HAVE SEEN IN RUSSIA THE JEALOUSY OF GREED AND THE JEALOUSY OF LABOR AND WHAT IT HAS LED TO. YOU HAVE RESPECT FOR WOMEN AND AS LONG AS YOU MAINTAIN THAT RESPECT AND ASSOCIATE WOMEN ONLY YOU DO AND CAN RESPECT YOU ARE SAFE FROM TROUBLE IN THAT DIRECTION. THE MOST INTELLIGENT MEN HAVE NOW WON TO LEARN THAN EVER BEFORE SO DO NOT FEEL YOU ARE NOT ABLE TO SHARE THE THINKING AND DOING AS WELL AS THOSE WHO HAVE HAD GREATER PRIVILIGES. KEEP YOUR CONSCIENCE CLEAR AND UNBIASED AND YOU HAVE YOUR BEST GUIDE. KEEP IN TOUCH WITH ME. WITH SINCEREST HOPE FOR YOU.
LUCIUS E. PINKHAM / 4 GOVERNOR OF HAWAII / TO NICHOLAS SHESTOPOL / HONOLULU T.H.
LUCIUS EUGENE PINKHAM / FOURTH GOVERNOR OF HAWAII 1913-1918
CHAMPION OF SOCIAL BETTERMENT
Developed And Expanded The National Guard And The Waikiki Reclaimation Movement And Is Considered To Be The Father Of Modern Waikiki. He Sacrificed Himself To For What He Believed To Be In The Best Interest Of The Public And Gave Himself With The Most Liberal Hand To The Deserving And Needy.
A SHORT HISTORY OF LUCIUS EUGENE PINKHAM FOURTH HAWAII GOVERNOR (1913-1918)
An Elk for Governor: L. E. Pinkham / Imagine you couldn't vote for Governor. Until statehood, the U.S. President appointed all Hawaii's governors. Although the President got input from prominent citizens, most folks had NO say.
Many founding Elks were active Republican Party leaders, but Democratic presidents appointed three Elks as Governor. President Woodrow Wilson appointed Lucius Eugene Pinkham (1913-1918) and Charles James McCarthy (1918-1921). President Franklin D. Roosevelt appointed Joseph Boyd Poindexter (1934-1942).
L. E. Pinkham was initiated at Lodge 616, September 1904. Born in Massachusetts, Pinkham came to Hawaii in 1891, left in 1894, and returned in 1898. He ended his business career in 1903 and was appointed to the Board of Health. Pinkham served during island Bubonic Plague and Cholera epidemics. He championed the Waikiki Reclamation Project (Ala Wai Canal) to control mosquitoes and make farm fields into expensive real estate. He died in 1922 in California.
January 1, 1914, Gov. Pinkham took office with a very short ceremony, congratulations, and acceptance of a rose and fern lei. His office was draped in leis of maile and ilima, as were portraits of King Kamehameha and Princess Kaiulani. At a public reception, 616 member Henry Berger led the Band in a musical program. The Hawaii National Democratic League's Jan. 2 dinner was 'dry'. McCarn cocktails (ice water) accompanied the toasts. U.S. District Attorney Jeff McCarn wanted Democrats to back prohibition, despite their nickname as The Bourbons.
In contrast, BPOE 616 threw a big, 'wet' party at the Lodge on King Street. Elks recorded the January 22, 1914 reception for Governor and Mrs. Pinkham as an unqualified success. The Lodge was decorated with potted palms and ferns, colorful ribbons, plenty of antlers, a taxidermied elk, and a huge picture of 'Uncle Pink' as the governor is known in Elkdom. A 'wet' 11 o'clock toast was followed by continued dancing. Donations kept event costs low. As an economy, Augustus Edward Murphy (first Leading Knight, ER 1912-13) took charge of soliciting cakes from wives and daughters of members. Brother Heydenreich of the Young Café sent plates, forks, punchbowls, and trays, along with six efficient waiters at no cost.
Most biographies stress Pinkham's work toward the Ala Wai Canal, building a civic center, and modernizing the National Guard, but the Gov's job was far tougher.
It hurt Pinkham when, late in 1914, McCarn was charged with assault (brawling, revolver, fellow attorney, IN the court house). Tried twice, and acquitted, he resigned in 1915.
World War I distressed Hawaii's economy dropping general revenue 50%. Pinkham cut the College of Hawaii's budget 25%. The 1917 U.S. entry into the war brought an anti-German frenzy: property seizures, arrests, internment camps, and threats of a German language ban. Profiteering, shortages, and hoarding of goods and food followed. The military wanted prohibition and help catching draft dodgers. A cattle anthrax outbreak was labeled a deliberate German plot to deplete our meat supply, while Hawaii and the world fought an influenza epidemic (20+million dead worldwide; 675,000 in U.S.).
Pinkham had a rough relationship with the press. Editors held him responsible for the Territory's distress. Hearing Pinkham would be replaced, Hawaii Shinpo wrote that Pinkham had done what little he could to stir up trouble where none existed between allies Japan and U.S.A., and was notorious for his anti-Japanese tendencies.
Advertiser editors called Pinkham unpatriotic when he gave a speech that wasn't stirring enough for red-blooded Americans opposed to Prussianism and the murderers of women and children. Their last Pinkham editorial labeled him a complete misfit who never once made himself plain to the community and rarely used a sentence that was understandable.
Pinkham resigned his BPOE 616 membership in April 1918. Why? Elks were the focus of a very public and bitter prohibition fight during World War I 'dry' patriotism. With 616 attacked, perhaps membership was a liability to a man who drank 'McCarn cocktails'. Perhaps Pinkham was generally unhappy after being given the federal hook as the Advertiser labeled failure to be reappointed. Or Perhaps he hated being called Uncle Pink!
References: / Honolulu Advertiser Jan 1 & 23 1914, Dec 22 1915; Jan 8, Jul 3 1917, Jun 22, 1818; Sept 1, 1973 / Men of Hawaii, 1917, Honolulu Star-Bulletin Printing. / Membership records BPOE 616 / Minutes, BPOE 616, July 25, Aug 1, Dec 19 1913; Jan 16, 23 1914; Apr 26 1918 / Star-Bulletin Jan 3 & 23, Oct 9 1914
Return To TWENTY THOUSAND LEAGUES UNDER THE SEA
DOCUMENTATION THROUGH RESEARCH BY JAMES CLINTON CURRAN / DOCUMENTARY FILM HISTORIAN / ART DIRECTOR
WWW.TWENTYTHOUSANDLEAGUESUNDERTHESEA.COM / COPYRIGHT © 2005~ALL RIGHTS RESERVED~