NOTE: WE ARE CURRENTLY IN THE PROCESS OF TRANSFERRING THE KODAK 8MM COLOR FILM TO DVD TO MPEG
PERFORMANCE ARTISTS MARLOWE B. WEST & CHARLES McNEIL1974
16 ORIGINAL PHOTOGRAPHS TAKEN IN 1974 BY JAMES CLINTON CURRAN / PHOTOGRAPHS HAVE BEEN VAULTED FOR 33 YEARS AND REVEALED HERE FOR THE FIRST TIME EVER
4 DIFFERENT TYPES OF FILM WERE ORIGNALLY USED TO PRODUCE THESE IMAGES / CLICK ON THUMBNAILS FOR LARGER DIGITAL VERSIONS
KODAK 35MM ECTACHROME 400 ASA / AGFA 35 MM HIGH CONTRAST BLACK & WHITE FILM 1000 ASA / AGFA 35 MM BLACK & WHITE FILM 200 ASA / KODAK 8MM COLOR MOVIE FILM
5 MINUTE MOTION PICTURE FILM WAS SHOT USING AN 8MM BOLEX P-2 ZOOM REFLEX MOVIE CAMERA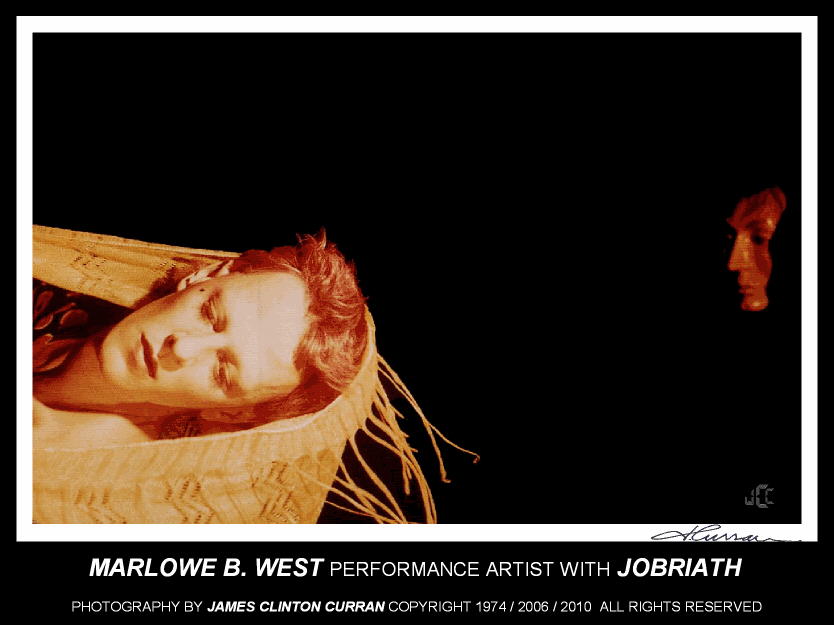 ARCHIVES______________________________________________________________________________________
JOBRIATH MARTIAN TROOP 1974 PHOTOGRAPHY BY JAMES CLINTON CURRAN COPYRIGHT © 1974 / 2006 / 2010
ALL PUBLISHING RIGHTS RESERVED
JAMES CLINTON CURRAN licenses these images for commercial use to record companies, publishers, film and television productions, advertising agencies, graphic designers and multimedia companies.
PURCHASING PRINTS
To place an order, please Email Us your information. We require your name address and phone number and the reason that you need the images. A JAMES CLINTON CURRAN representative will contact you during regular business hours (Monday - Friday; 10:00 AM to 6:00 PM PST) to discuss details of your project. Once research and use fees are established, we will send you laser photo copies of the images requested. When you determine which images you would like to use, we will provide you with reproduction quality prints, slides or digital files in a timely and efficient manner.
All images from JAMES CLINTON CURRAN are protected by International Copyright Laws and may not be reproduced without our written permission.
MINIMUM FEES
Research Fee begins @ $50.00 (Please send subject list for exact rate) Production Fee: $35.00 per photo (print, slide or scan)
Use Fees begin @ $250.00 per photo per use (Special Lot Rates are available for quantity uses)
Black and White Silver Gelatin Prints start at $250 for a 16 x 20 print. These museum-quality prints are printed one at a time on Kodak Elite Paper. All prints and transparencies except art prints and digital files must be returned within (30) days. Due dates may be extended upon request. Sales Tax will be applied to all sales and purchases.
TO PLACE AN ORDER
Click here to contact the researchers. We will not send your information to any mailing lists. Privacy Statement Privacy Statement for JAMES CLINTON CURRAN Archives.
Archives has created this privacy statement in order to demonstrate our firm commitment to privacy. JAMES CLINTON CURRAN The following discloses the information gathering and dissemination practices for this Web site: JAMES CLINTON CURRAN
ADVERTISERS
We use an outside ad company to display ads on our site. These ads may contain cookies. While we use cookies in other parts of our Web site, cookies received with banner ads are collected by our ad company, and we do not have access to this information. Order Forms
Our site uses an order form for customers to request information, products, and services. We collect contact information (email addresses), and demographic information (zip codes).
Contact information from the order forms is used to ship purchases, information about our company.
Demographic and profile data is also collected at our site. This information is used only for the shipping of photographic material.
CHOICE / OPT OUT
You can send email to JAMES CLINTON CURRAN
DATA QUALITY / ACCESS
This site gives users the following options for changing and modifying information previously provided:
You can send an email to JAMES CLINTON CURRAN
CONTACTING THE WEBSITE
If you have any questions about this privacy statement, the practices of this site, or your dealings with this Web site, you can contact: JAMES CLINTON CURRAN
MAILTO:JAMESCLINTONCURRAN@HOTMAIL.COM / / TELEPHONE: (323) 822-9027
DOCUMENTATION THROUGH RESEARCH BY JAMES CLINTON CURRAN / DOCUMENTARY FILM HISTORIAN / DOCUMENTARY AND FEATURE FILM ART DIRECTOR
DOCUMENTATION THROUGH RESEARCH BY JAMES CLINTON CURRAN / DOCUMENTARY FILM HISTORIAN / ART DIRECTOR
WWW.TWENTYTHOUSANDLEAGUESUNDERTHESEA.COM / COPYRIGHT © 2005~ALL RIGHTS RESERVED~